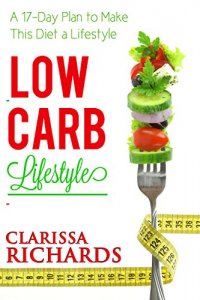 Free on 9th - 11th Dec 15



or borrow free on Kindle Unlimited.
No reviews yet.
Do you want to lose weight? Enhance your well-being? Heighten your health and live a healthy lifestyle?
Download this book today and get One of Clarissa Richards' best-selling books, "The Ultimate Weight Loss Guide", 100% FREE!!!
**LIMITED TIME OFFER ONLY**
From the four time best-selling author and one of the world's leading experts on health, nutrition and wellbeing, Clarissa Richards. The .17 Day Low Carb Lifestyle is a book that offers you comprehensive information about how to jumpstart a healthier and lighter you.
Unlike similar books, this book is not another 'diet' or quick fix. Clarissa Richards, made sure that you get a detailed day-to-day plan, as well as the information needed to know how to turn this plan into a lifestyle, and maintain a low-carb diet throughout the rest of your life so that you can have the best health possible.
Some of the benefits you will get out of this book are:
o Protein and Carbohydrates: How carbohydrates and proteins influence your weight

o Preparation is Key: You will learn what the right shopping list is, for you to successfully follow low-carb diet.

o Goals: Setting realistic goals that you can accomplish.

o Prepare Yourself: The preparation timeline and what you need to get started.

o What to do and expect throughout each phase of this challenge: This will ensure that you stay on track and get through issues like cravings.
Once you complete your challenge, where do you go from there? This is a question a lot of people ask and a lot of literature fails to address. Clarissa, will teach you:
o How to avoid the Rebound: How you can easily transition into the maintenance stage so that you can maintain your results and keep working toward improved health.

o Healthy habits: Habits you need to adopt to keep you on track.

o How to prepare yourself: Being successful in this plan starts with your mindset. You will learn what you need to do to keep you motivated through the plan and after the plan

o Tips that will improve your chances of success.

o Little extra Help: You are also provided with a bonus chapter full of delicious recipes, from appetizer, until main dish, and even desserts. All of these delicious recipes are low-carb and perfect for you to start getting into this new lifestyle you are about to adopt.
If you feel like you are unhealthy, or you want or need to lose weight. Then, it is time for you to focus on your health and get your health back on track. By completing this low-carb plan and then maintaining a low-carb diet even after the plan will ensure that you get to your desired weigh and that you are improving your overall health every single day.
If you like what you see, scroll up, grab this book, and take the first steps to your healthier life now!