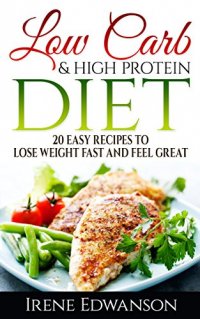 Free on 27th Mar 15


No reviews yet.
This book appears to be unavailable on Amazon.co.uk at the current time. If this is incorrect, please let us know here
This book is a great quick read that is filled with healthy information on the right way to go on a high protein low carbohydrate diet.
Within these pages you will be offered safe and healthy suggestions on how to go onto the diet in a way that will be most beneficial for you. There are hundreds of high protein diets out there but there are many that are not healthy balanced diets many suggesting that you totally cut out carbs in your diet. This is not a healthy choice in diets as your body needs carbs for energy the trick is picking a diet that offers you a healthy choice and amount of carbs in your diet. This is what you will be offered in this diet guide book along with 20 nutritious healthy recipes to try.
This diet guide will point you in the right direction towards the healthy carbs and proteins that you should be adding to your diet. If you want to lose weight the best way to do this is following a healthy approach which is offered to you within these pages. You don't want to put yourself on some crash diet that is not good for your overall health instead lose the weight in a safe and healthy manner.
In this guide we will cover areas such as the following:
• What Foods to Eat on a High Protein Low Carbohydrate Diet.
• Who Should Follow a High Protein Low Carbohydrate Diet.
• How Much Protein Do We Need?
• Nutritionist Approved Foods
• Herbs & Spices that can Help with Weight loss
• No Added Sugar Desert Recipes
-Fruit Parfait
-Banana Chocolate Swirl Bread
-Carrot Cup Cakes
-Giant Oatmeal Cookies
-Fruit Dip
-Sugar-free Brownies
-No Crust Strawberry Pie
-No Added Sugar Apple Pie
-No Sugar Blueberry Coffee Cake
-Pumpkin Parfait
• High Protein & Low Carb Main Meal Recipes
-Crock Pot 3 Bean Turkey Chili
-Baked Chicken Parmesan
-Baked Spaghetti Squash and Cheese
-Crock Pot Asian Pork with Mushrooms
-Oven Fried Breaded Pork Chops
-Shrimp Scampi
-Dijon Salmon
-Broiled Tilapia Parmesan
-Tuna Casserole
-Lemon Shrimp Linguine
Download your E book "Low Carb: Low Carb Diet For Beginners. 20 Easy Low Carb Recipes to Lose Weight Fast " by scrolling up and clicking "Buy Now with 1-Click" button!
Tags:

low carb diet books, low carb, low carb cookbook, low carb diet for beginners, low carb recipes, low carbohydrate foods, low carb slow cooker chicken recipes,

slow cooker weight watchers cookbook, low carb high fat diet, low carb slow cooker cookbook, low carb diet for dummies, low carb slow cooker 50 wickedly delicious slow cooker recipes for guaranteed weight loss, low carbohydrate cookbooks

low carb quick and easy, Low carb crockpot, low carb crockpot cookbook, low carb crockpot recipes, low carb crockpot meals