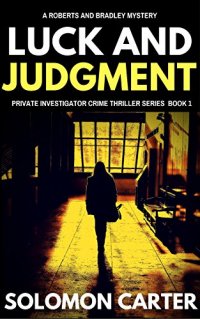 Gail Everett must have justice from the corporation which destroyed her father's life. No courtroom has ever found against them. But beyond the courtroom there are many kinds of justice…
The woman gives private investigators Eva Roberts and Dan Bradley a secret file supplied by her father. The PIs start to unpick the mystery – but some seriously bad people know about the file and want it gone. When a violent gangster closes in Eva and Dan discover just how deadly this case has become.
Friends are divided. Young women are murdered on the streets. Private detectives Roberts and Bradley are snared in the dark heart of a thirty-year-old nightmare.
Full of dramatic tension, with snappy dialogue, mystery, twists, thrilling action, humor and a hint of romance, this full-length novel will satisfy fans of great mysteries and crime thrillers. If you love Lee Child, Robert Crais, Harlan Coben, Ian Rankin, Christopher Greyson and the Long Time Dying series you will love Luck & Judgment!
Eva Roberts & Dan Bradley – The Luck & Judgment Private Investigator Crime Thriller Series
LUCK & JUDGMENT – Book 1
TRUTH BE DAMNED – Book 2
THE SHARP END – Book 3
DON'T GO GENTLY – Book 4
Categorised as:
Private investigator crime thriller series
Private investigator mystery novel series
Private investigator novel series
Private detective novel series
Pulp thriller
Men's action and adventure
British crime thrillers
For more special Eva and Dan adventures, memes, information, discounts, exclusives and insights join the readers' group at SolomonCarter.net