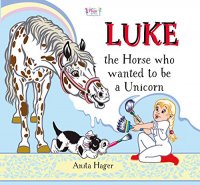 Also Available as:
Print Edition

Luke was a strong, stately, well-built horse who lived in a town with other horses. He enjoyed spending time with his horse-friends in the stable and with the little girls of the community. But there was one thing about Luke that made him feel ashamed and insecure among his friends. His body was covered in dark brown spots from top to toe. Luke figured that there was only one way through which he would feel more accepted among his friends – he had to look like a unicorn, beautifully white and magically majestic.
Old Brownie, the wisest horse in the stable, saw Luke's sadness and tried to comfort him. He quickly came up with a brilliant plan to help Luke become a unicorn. Luke was very excited to join in the plan, but little did he know that Old Brownie was trying to teach him an important life lesson.
Will Luke realize his dream of becoming a unicorn? Will he be able to deal with the thrilling consequences of being a unicorn? Will Luke's friends approve of his new look?