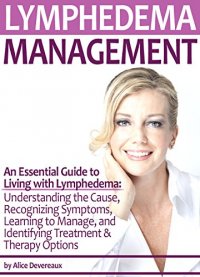 If you want to learn how to manage your lymphedema and not let it get in the way of life, then this book is for you.
Read on your PC, Mac, smart phone, tablet, or Kindle device.
Lymphedema is a disease characterized by a swelling in the limbs and certain other body parts due to a condition in one's lymphatic system. Because there is no cure, it can be easy for people diagnosed with the condition to think there is simply nothing they can do. The fact is, although it can't be altogether cured, Lymphedema and its symptoms can certainly be successfully managed. That said, for some people with Lymphedema, going to a doctor to manage symptoms is simply too costly, so they choose to do nothing. I hope to help you change that mindset throughout the course of this book. I would like to show you that, if you or your loved one has Lymphedema, there is always something you can do to better your health without necessarily spending a great deal of money. Of course you will still need to involve your doctor; I certainly wouldn't suggest that you substitute this book for medical attention and personalized advice from your doctor. However, I would like to show you that there are many things you can do, from diet to exercise modifications to at-home therapies, to help manage lymphedema so you can live life to the fullest without anything holding you back.
Here Is A Preview Of What You'll Learn…
What Lymphederma is, Its Possible Complications and Risk FactorsThe Causes and Symptoms of LymphedemaThe Different Treatment Options and How to Select the One that's Right for YouChoosing the Best Compression GarmentExercises and Lifestyle Choices for the Management of LymphedemaMuch, much more!Download your copy today!