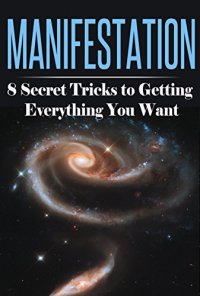 Manifestation 8 Secret Tricks To Getting Everything You Want!
Download and read on your Kindle, PC, Mac, smartphone, or tablet device.
The idea of manifestation and The Law of Attraction have been around for a thousand years. In essence, it is to be believed that our mind is connected to the universe that created everything and that whatever we asked for, it provides.
This book will help you achieve and realize your dreams by using the power of manifestation. It starts with your thoughts and a burning desire to achieve what you want the most in life. You'll learn 8 secret tricks to getting everything you want by using manifestation to its ultimate power.
LEARN MORE ABOUT MANIFESTING EXACTLY WHAT YOU WANT
What's the Law of Attraction and how to use it?

Positivity and Happiness from manifestation

Know what you want to get what you want

How to become satisfied and wealthy from your manifestations

How creative visualization will help you achieve your dreams faster

How to plan to achieve your desires

Ways to remain in faith and overcome your doubts
If you're interested in learning more about having the life of your dreams and manifesting all of your desires, then click the buy button now!