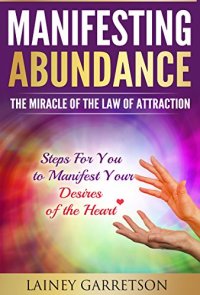 Free on 13th - 14th Jul 16


No reviews yet.
Also Available as:
Print Edition

This book appears to be unavailable on Amazon.co.uk at the current time. If this is incorrect, please let us know here
Are you struggling to achieve the things you desire most in life?
Do you feel like something is wrong with you because you cannot reach your full potentials?

If yes, I'm here to help. I have studied the principals of the law of attraction since the late 1980s and have used these principals in my life. I was a successful, professional musician in concert and changed on a dime to be a successful U.I. developer for major world wide companies. If you love yourself first…. anyone can do these techniques and truly get what you need out of the universe.
It's possible to be all you can be if you know how to go about manifesting abundance from within.
In my book ,of techniques that work, "Manifesting Abundance :The Miracle of The Law of Attraction: Steps For You To Manifest Your Desires Of The Heart", I break down into simple yet extremely effective steps on how to manifest your heart desires.
Manifesting abundance is also written for people who have not been able to successfully use the law of attraction to manifest what they want in their life. In this book, you will be taught the correct and practical steps to manifesting the desires of your heart.
Grab Your Copy Today! and please leave a review on how it helped you!
This book is to help those who don't have luck with the law of attraction understand what might be left out of their method to manifest and assist to get the proper combination of Happiness and Thankfulness in the technique used here. The correct steps to manifesting the desires of your heart. This book compiles all the factors that have to be considered to make the law of attraction work.

Included are all the positive methods to help you achieve the desires you so dearly want.