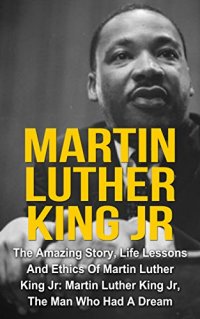 Free on 29th Jun 15 - 3rd Jul 15


No reviews yet.
This book appears to be unavailable on Amazon.co.uk at the current time. If this is incorrect, please let us know here
The Amazing Story, Life Lessons And Ethics Of Martin Luther King Jr: Martin Luther King Jr – The Man Who Had A Dream
Today only, get this e-book for just $2.99. Regularly priced

at $4.99. Read on your PC, Mac, smart phone, tablet or Kindle device.
Martin Luther King, Jr. is a man well known for his bravery in obtaining freedom and equality. During his time, discrimination was an accepted facet of life– nobody dared to question the ways of separating "the black" from "the white". But he did.
Nowadays, you can now see a black person in any industry: they have the right to education, housing, jobs, and politics. Today is a far cry from King's time when Negros were not allowed in shopping malls, in schools or in banks.
He, along with the people who shared his vision, made this kind of freedom and equality possible. But as times goes by, people tend to forget. Schools try to remedy that problem by letting students know who Martin Luther King Jr. is.
This book will also help you in your quest to know the man behind the famous "I Have a Dream" speech. It will highlight King's journey from childhood to the fateful day of his death. If you were not born in his time, it's your chance to get a glimpse of what it was like before and compare it to what is happening now.
You will also learn a lot about his legacies and ideologies. On top of it all, you will learn that the desegregation now is because some people from before stood up for what was right.
Here Is A Preview Of What You'll Learn…
Martin Luther King Jr – The Making of an Activist – MLK'S Childhood and EducationMartin Luther King Jr – King's Dream – Ideology of a LeaderMartin Luther King Jr – His Journey with Southern Christian Leadership ConferenceMartin Luther King Jr – The Fall of a Giant: King's Death and Surrounding ControversyMartin Luther King Jr – Life and Leadership Lessons from The Man Who Had a DreamMartin Luther King Jr – The Successful Birmingham CampaignMartin Luther King Jr – The March to MontgomeryMuch, much more!

Download your copy today!
Take action today and download this book for a limited time discount of only

$2.99! If you love your history and want to learn of the amazing life that Martin Luther King Jr led, then download this book now!
Tags: martin luther king jr, martin luther king jr biography, martin luther king jr I have a dream, I have a dream speech, martin luther king jr speech, martin luther king jr books, martin luther king jr series, martin luther king free, martin luther king jr kindle,