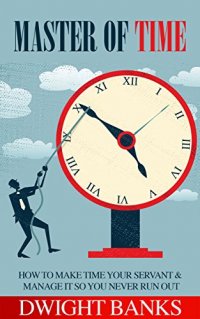 "How did it get so late so soon?"
―Dr. Seuss
Learn how to escape the 'time-strapped' conundrum!
Are you the kind of person who has the feeling in the above quote by Dr. Seuss every now and then? Do you wish to have 'more time', ironically, in the very 'limited' time we all have? You might feel like it is indeed a 'Herculean' task when you have in mind all the things you have to do in the coming day and perhaps the coming week as well. You might be overstressed and feeling a sense of being burned out. Well, it's not really a time to get worried. With this book you will never have to reach that stage anymore where you have to struggle to get a firm grasp on time.
Learn to be the 'Master of Time'
More often than not we find ourselves falling short of time in the tasks that we have ahead of us. This can lead to anxiety and frustration, which compounds the 'time-problem' to an even greater degree. In this e-book, 'Master of Time', you will learn to be gain control over time and not let time tug at you by the reins. You will understand by the end of it that you have 'all the time in the world' to do your tasks, whether they are household or work-related. After all, even the greats had the same amount of time. The difference just lay in how they used theirs more constructively.
Learn that there is a 'process' behind mastering time
Mastering time does not merely mean working faster or working longer hours. If it were that simple, everyone would be in total control over time and not ever feel stressed or counter-productive. It's really about working 'smarter', not harder. This e-book will take you through all the pivotal methods that you can employ to gain mastery over your time, with an in-depth analysis of each method. In the end you will be ready to face the next day with a renewed sense of confidence with the startling new insights you glean from this book.
What you will learn:
You will learn all the nitty-gritties in managing your time effectively and bringing you closer to the realization of the 'big picture' you have in mind. You will realize that all 'big things' are made up of 'small things' performed with regularity. You will learn how to:
PrioritizeSay 'no' to others, 'yes' to youSleep well for 'dreams in the waking world'Focus for a better pictureGet the worm: Be that early birdRemove the senseBe 'imperfectly' perfect: Allow for imperfections at timesBe a 'habit freak'Balance your 'virtual' and 'real' social livesSet 'deadlines' for 'lifelines'Use 'down time' as an 'upper'Get to the top, one step at a timeWatch what you eat and get that pulse racingPlay 'well' on weekendsOrganizeBatch related tasks togetherCommit stronglyMeditate: Free your mindEnjoy the Ride
Would you like to gain further insight into the methods used to take charge of your time and in effect, 'your life'?
Well then, what are you waiting for? Clearly not more 'time', as it is that very resource we are aiming to preserve. So download 'now' and watch your life change! Perhaps not today, not tomorrow, but in just a few days you will see the difference.
Click the 'buy' button at the top of the screen. Change your life!