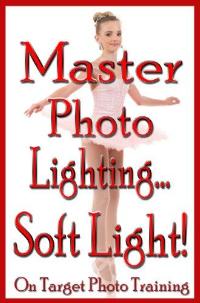 Master Photo Lighting – Soft Light
Here we continue our discussion of light. previously we covered hard light and how to work with it… now let's cover soft light, how to work with it – and when – and how to create and modify it.

This is the lighting most used in photo studios and no photographer should overlook this important topic.
As a BONUS…you will also learn how to make your own softbox – no need to spend hundreds of dollars buying one when you can make it for under $10! Actually, you will learn to make two versions!


Here is the table of contents. this will show you some of what is included in this easy to understand volume.


Introduction

Dynamic Range

Narrowing The Lighting Ratio

Exposing For The Extremes

Dynamic Range Hierarchy

Why Care About Dynamic Range?

High Dynamic Range (HDR) Photography

Shadows

Shadows Determine What Type Of Light You Should Use

Spotlights

When You Don't Want Shadows!

When You DO Want Shadows

Deciding On Hard Or Soft Light

Soft Light

Soft Light Defined

The Photography Diffuser – A Portable Cloud

Hard And Soft Light From The Same Source!

Soft Light Advantage

The Umbrella

The Softbox

Make Your Own Softbox

Test Your New Softbox!

Other Soft Light Options

Composition

Composition Defined

Framing

Vignette

Shape

Size

Space

Mood

Diagonals

Symmetry

Clutter

Photo Exercise

Additional Photo Training
In addition to discussing soft light and how to use it, I've included a bonus section covering composition.
Composition is one of those things that most of us KNOW is important, but in the excitement of shooting, we tend to ignore. No more…here is where you learn to put the "WOW" factor in your photos. And start winning photo competitions!
This easy to understand volume will dramatically improve your photos. Apply the principles and you will be getting compliments (and possibly professional job offers) in no time!

You are closer than you think to creating truly amazing photographs that will be the envy of your friends and family!
Get YOUR copy right now!