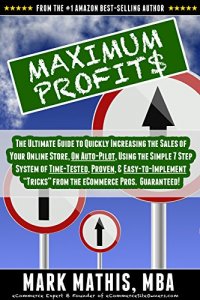 Free on 11th - 13th Aug 15


No reviews yet.
This book appears to be unavailable on Amazon.co.uk at the current time. If this is incorrect, please let us know here
Are you a business owner who wants to make more sales, more consistently, on your eCommerce store?
Are you staying awake at night, knowing that almost all the money you're spending on advertising is being wasted on people who end up coming to your online store once and never come back again?
Do you feel trapped and helpless by your "web guy" who doesn't understand the first thing about online marketing, eCommerce, or building deeper relationships with your visitors and customers?
If any of the above feelings describes you, then the "Maximum Profits" book is PERFECT for you.
This is the Ultimate Guide to Quickly Increasing the Sales of Your Online Store, on Auto-Pilot, Using the Simple 7 Step System of Time-Tested, Proven, & Easy-to-Implement "Tricks" from the eCommerce Pros. Guaranteed.
Inside this book, you'll learn the PROVEN & STEP-BY-STEP marketing system that we use (inside our own eCommerce businesses and in the online stores of our coaching and consulting clients) to maximize the sales and profits of every single visitor to our stores.
The information that you'll learn is worth tens of thousands of dollars in potential profit, if implemented correctly.
In addition, some of the other eCommerce marketing tips, tricks, & techniques you'll learn include:
– How to IMMEDIATELY Get More Sales & Profits from Every Single Visitor to your eCommerce Site (without spending one cent on additional costly advertising). Guaranteed!
– How this One "Sneaky" Trick Can MAKE You Even More Profit, by Simply Giving Away "Free Shipping" on Every Single Order.
– How to "Cut-and-Paste" Some Simple Code to Build Huge Free Lists, on Auto-Pilot, of Every Single Person Who Visits to Your Site (regardless if they ever opt-in or buy from you :).
– How to Quickly "Steal" My 7 Highest ROI (but simplest) Marketing Systems That We Use to Maximize our Profits, On Every One of Our Online Stores…
Every business owner who sells products through an online store or eCommerce site should be REQUIRED to read this book!
With your purchase, you'll also receive over $700 in FREE Bonus videos, downloads, tutorials, checklists, a PDF copy of the book, Mindmap PDFs, and much more.
Take control of your online business right now! Buy "Maximum Profit$" and maximize your ROI starting in the next 10 minutes!
From the #1 Amazon Best Selling Author – Mark Mathis, MBA
——————————————-
Founder, eCommerce Site Owners
eCommerce Expert