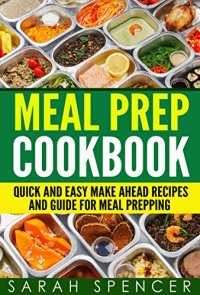 Do you think meal prepping can?t be quick and easy or healthy? Change your mind with the Quick and Easy Meal Prep Recipes in this Cookbook! Make your busy life easier with healthy Meal Prep recipes the whole family will enjoy.
Download FREE with Kindle Unlimited
Are you enticed by the idea of meal planning and prepping, but feel a little intimidated by the process? Do you think typical freezer meals do not fit your culinary tastes or dietary lifestyle? You are not alone. Who does not love the idea of delicious, healthy meals planned and prepared ahead of time?
The thing about typical meal prepping collections is that they do not always include the healthiest of options. This book aims to change your perception of meal prepping, in a good way.
The recipes in this book are satisfying, delicious, and healthy. Yes, you can enjoy meals that are tasty, satisfying, and nutritionally well rounded ? without needing to spend hours in the kitchen every day! In just a few hours a week, you can prepare a bounty of tasty and nutritious meals including options for breakfast, lunch, and dinner. This book addresses what has been lacking in other meal prep collections, and it does so deliciously.
Inside, you?ll find:
? Introduction to and some tips and tricks for successful
healthy meal prepping
? Delightful breakfasts and morning smoothies such as the Mini Scallion Cheddar Egg Cups, the Cranberry Pear Overnight Oats, and the Black Forest Hemp Smoothies
? Favorite make ahead lunches, salads, and soups like the Creamy Pancetta Sage Soup, the Farro Citrus Salad and the Chicken Fajita Bowl with Spicy Vinaigrette
? Delicious dinners in a dash like the Mandarin Lime Slow Cooker Pork Tenderloin, the Crab Cakes Over Fresh Greens and the Saucy Tex Mex Meatballs
Read on your favorite devices such as Kindle, iPhone, iPad, Android cellular phone, tablet, laptop, or computer with Amazon's free reading Kindle App.
Scroll back up and click the BUY NOW button at the top right side of this page for an immediate download!