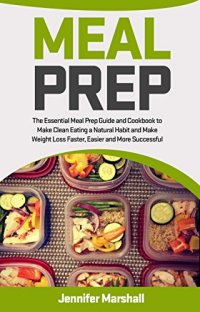 Free on 22nd May 18



or borrow free on Kindle Unlimited.
No reviews yet.
Use These Proven Effective Tips and Strategies to Boost Your Meal Prepping Power and Start Achieving Your Health and Fitness Goals Today!
Obesity and other metabolic diseases have proven to be our century's greatest health challenge. According to statistics, each year, more than 2.8 million adults succumb to obesity-related ailments. Other reports show that metabolic syndrome affects at least 50 million people in the United States alone and often triggers various health problems. Is there hope for our generation? Is there anything we can do to reverse obesity, keep it off and fight other ailments that are increasingly becoming common in our modern society?
To deal with these emerging issues, dietitians have formulated many diet plans. However, and unfortunately so, only a few of these diets are scientifically proven to work. Even so, one thing many experts agree on is that clean eating is one of the most efficient ways to manage obesity, related diseases, and lose weight in a healthy way. There is no magic diet, no overnight miracle, no plan in which you do not need to eat healthy, sensible portions, and no healthy way to lose weight by avoiding exercise completely. This book is not about any of that. Those are fallacies, aimed directly at your emotions. Successful health and weight loss does, however, rely on your ability to eat clean, healthy food and embracing a more active lifestyle. The information and advice in this book will help to make that path easier and more direct.
This book seeks to explain what a healthy eating lifestyle is all about and how you can effortlessly prepare healthier meals in advance to assure your success.
Here is a Preview of What You Will Find in This Book…
* The Benefits of Prepping Meals in Advance
* Clean Eating in a Nutshell
* What to Eat and Not Eat
* The Guide to Effective Meal Prepping
* Clean Eating Recipes for Every Meal
It is my goal to help take what I have learned on the subject, and share it with others, so that they can have a better understanding, and make better choices. I always try to assure that I have provided the best, most accurate information, and also that you, the reader, may use this information to immediately improve the area in which you apply it to. I aim to make this the best meal prep book on Amazon, and with your help I will be able to revise and make improvements, as well as add more usable content, as more information becomes available.
Download Your Copy Today!!