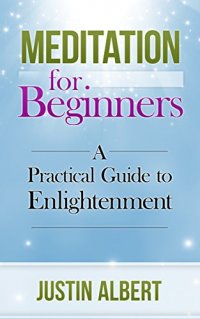 Allow Meditation to Help You Achieve Your Goals, Halt Your Depression and Anxiety, and Bring You A Renewed Perspective of the World.
Meditation for Beginner's outlines the dramatic ways in which meditation has been scientifically proven to bring mental strength, agility, and greater empathy—through just two to five minutes per day.
This book asks the question: is your mind getting in your way, continually asking you if you're "good enough," if you should "really try hard for your goals," or if you're even liked by anyone else? Is your mind self-sabotaging you on your road to success? Do you find yourself bogged down by anxiety, by depression, or by serious mental blockages?
This Meditation Book Works Alongside You To Help You Parse Through Your Stressors, Your Anxieties, and Your Fears and Become the Best Formation of Yourself.
Meditation is older than history itself. It has brought renewed vitality and strength to the minds of people all over the world. Even today, thousands and thousands of years after meditation's initial creation, doctors prescribe meditation to help you live a better, fuller life. Psychiatrists prescribe it to help you better understand yourself on a unique, personal level. Through these prescriptions, you can truly heal yourself of past traumas, forgive yourself, and move on.
This Book Offers a Step-By-Step Path to Learn the Art of Meditation and Keep the Habit a Daily Ritual.
If you struggle beginning meditation, even though you understand its amazing benefits, this book is essential. It gives you tried-and-true ways to begin the meditation habit and keep it a part of your life.
Allow yourself to change the way you think about yourself and your life today. Through that enhanced mental power, you can finally become free.