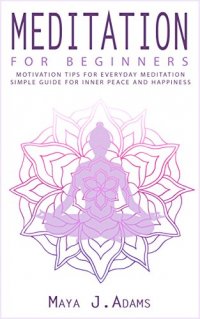 Motivation Tips for Beginners in Meditation:
Simple Guide How to Involve Meditation in Your Every Day Life




This book contains proven steps and strategies on how to start your Meditation practices and keep motivated whether you are at home or traveling.
This week only, get this Kindle book for ONLY $2.99. Regularly priced at $4.99.

Read on your PC, Mac, smart phone, tablet or Kindle device.
This is a great quick read guidebook for those that are looking to add meditation into their lives but want to know a bit more about it and how to get started. In this book you will learn benefits that meditation will provide for your mind and body. It will guide you through what meditation is and how practicing it can help to strengthen your mind but also how it will help to aide in reducing stress, improving your memory, increasing activity, improving attention, increasing productivity as well as helping to increase feelings of compassion. Meditation can be a great way to help you to wind down after a hard day at the office. This is an easy to follow guidebook giving you a few basics of how to start practicing meditation. It will also explain how you can train your brain to bring thoughts and feelings awareness; teaching you to examine who you really are. You are going to feel so happy that you decided to add meditation to your daily ritual because it will enlighten you on so many different levels. You will be so grateful that you decided to introduce yourself to meditation through reading my guidebook filled with easy to read information to make your passage into the world of meditation a pain free and easy one.
Here Is A Preview Of What You'll Learn…
What is Meditation

The Necessities of Life

Benefits of Meditation

Forms of Meditation

Start up Guide for Meditation Session

Motivation Tips for Meditation

Meditation & Travel
This book will help you find some inspiration to continue doing Meditation practices at home every day and while on your travels.
DOWNLOAD now!
Tags: meditation for beginners, meditation book, motivation tips, yoga practice, spiritual growth, healthy living, mindfulness, heart rhythm meditation, guided visualization, trance-based, Qi gong, kundalini, transcendental meditation, Zazen, Buddhism, Hinduism, inner peace, happiness, lose weight, reduce stress, meditation for weight loss, losing weight, stress relief, meditation for energy, gain energy, flexibility.