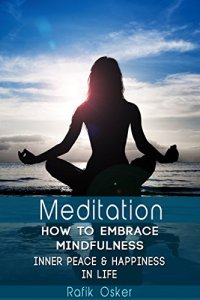 Free on 8th - 12th Mar 15


No reviews yet.
This book appears to be unavailable on Amazon.co.uk at the current time. If this is incorrect, please let us know here
Welcome to your meditation guide to to embrace mindfulness, inner peace, and happiness in your life!
Free bonus inside! (Right After Conclusion) – Get limited time offer, Get your BONUS right NOW!


Do you often feel worn out by the end of a long workday and you don't know how to unwind before you go to bed, resulting in insomnia?

Have you found that you're quick to anger and experience extreme highs and lows in your life?


Have you been diagnosed with an ailment such as depression or anxiety?

If you've answered yes to any of the above questions, then you're suffering from chronic stress. Chronic stress bars you from achieving inner peace and being able to be comfortable and happy with your life. It also creates a very irritable individual who cannot unwind at the end of the day. But don't despair! There's a simple answer to eradicating that stress.

Meditation is not a new-age practice that has recently come about. It's an ancient technique that has been used since the beginning of civilization in order to bring about a sense of peace and joy in one's life. This practice has been medically proven to have benefits both physically and mentally.

In this book, I am going to teach you the benefits of meditation, the different techniques, elements of meditation, basic meditation for beginners, and how you can implement meditation into your daily routine easily. You'll be surprised by how easy it will be just to achieve mindfulness!

Come join me in this adventure of attaining inner peace and bliss!
***Limited Edition***

Download your copy today!