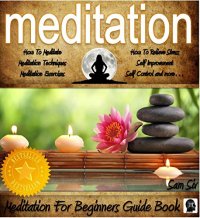 Free on 25th - 29th Jan 16



or borrow free on Kindle Unlimited.
No reviews yet.
Enjoy a life virtually unaffected by stress and tension!
★★★Top Seller in 'Meditation'★★★
Life is stressful, but it doesn't have to be. That's right! You can actually enjoy a life virtually unaffected by stress and tension. How? Through the practices of meditation and relaxation, that's how. Readers of Meditation for Everyday Living will discover how to live a happy and successful life by spending twenty minutes a day in meditation.
Review

A must have meditation guide for everyday living

By Cindy

"This is a great book for those who want to know how to meditate and all its great benefits. I live a rather hectic life with a full time job, 3 kids, husband, church, and other social activities. This at times can be stressful and leave me feeling out of balance. I also suffer from minor anxiety. These are the initial reasons why I bought this book, I wanted to learn how to meditate and handle the stressful times in my life. I was not disappointed with this book at all. The author gives clear and easy to understand step by step guidance on how to incorporate meditation into your life and improve overall health wellness. Some techniques I learn"
By giving yourself twenty minutes a day to meditate you will…

✔Enjoy a more restful night's sleep

✔Learn to listen to your inner self

✔Become a person who makes and achieves their goals

✔Lose weight and feel better by eating a healthy diet

✔Enjoy better health

✔Become the person who sees the glass as half-full

✔Much more!
***Here's A Sneak Peak Into What You'll Learn***

1) Learn The History of Meditation

2) Organic Living and Meditation are Key to Positive Self-development

3) Meditation for Self-control and Self-development

4) Learn How To Quite Your Mind

5) Learn about Hypnosis and Meditation

6) Guided Relaxation and Meditation

7) How To Stop Premature Aging Through Meditation

8) Setting Your Meditation Goals

9) Using Affirmatives in Meditation for Self-Improvement

10) How To Effectively Use Your Imagination

11) Word Association in Meditation for Self-improvement

12) Meditation Encourages You to Follow Your Dreams

13) How To Track Your Meditation Progress

14) Yoga Quota for Self-improvement and Enhanced Meditation

15) There is Something to be Said for Peace and Quiet

16) Facing Your Problems and Take Charge

17) Discover Your Inner-self Through Self-hypnosis and Meditation

18) Moving Toward Self-improvement Through Meditation

19) Goals + Meditation = Self-improvement

20) Controlling Your Mind With Meditation

21) Meditation Can Help You Achieve Your Goals

22) Attitude is Platitude for Self-improvement Through Meditation

23) Your Meditation Plan

24) How To Be in Control in Stressful Situations

25) Stay the Course With Meditation for Self-improvement

26) The Process of Meditation

27) Self-help Tools for Optimal Meditation

28) Meditation Leads to Smart Living

29) Meditation Requires You to Explore Your Mind

30) Writing and Meditation

31) Positive Thinking and Meditation

32) Reflection and Meditation

33) Exercising Your Brain

34) Discover Your Inner-strengths Through Meditation

35) Feel Great Through Meditation

36) The Summation of it All

37) Testimonials from Those who Embrace the Practice of Meditation

38) Meditation Resources

39) CommonTerms Used in Meditation and Yoga

40) Much more!
Why let stress and tension rule your life when you don't have to live that way? Why not become the person you've always wanted to be but didn't know how to become? Let meditation bring you to your true self.
Download Today!
Tags: meditation, Mindfulness, meditation for beginners, meditation books, how to meditate, meditation guide, meditation audio, meditation handbook, how to meditate, effective meditation techniques, relaxing meditation exercises, yoga, relaxation, better health, organic living, self-hypnosis, positive thinking, meditate