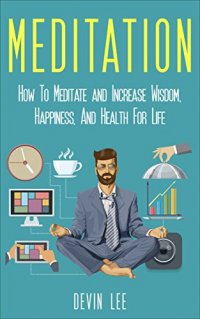 Bargain on 22nd Dec 16



or borrow free on Kindle Unlimited.
No reviews yet.
Discover How Meditation Can Lead to a Happier, Healthier, and Wealthier Life!
For a limited time, get this Kindle book for just $0.99. Regularly priced

at $2.99. Read on your PC, Mac, smart phone, tablet or Kindle device.
Who Doesn't Want to Live a Happier, Healthier, and Wealthier Life? This meditation guide gives you the secrets to unlocking your potential and achieving your dreams by learning to quiet your mind and listen to your soul. When you use the meditation techniques in this book you will strengthen the bond between your mind and body and develop a stronger sense of awareness that will help you succeed in every aspect of your life.
You're about to discover how through dedicated meditation you can sharpen your ability to focus and overcome the stresses of life. Furthermore, you will find yourself noticing details previously missed and seeing solutions where only obstacles once appeared. Meditation is the ultimate way to both relieve stress and refresh the mind. If you are tired of rushing everywhere but going nowhere this meditation guide is for you. If you have ever tried and failed at meditation before this guide will help you find a meditation technique that works for you.
Here Is A Preview Of What You'll Learn…
The Basics of MeditationThe Different Types of MeditationHow to Find the Right Type of Meditation for YouHow to MeditateHow to Quiet Your Mind How to Develop a Habit of MeditationTips and Tricks for Beginners
Download Your Copy Right Now!

The sooner you get your copy of this meditation book the sooner you will be harnessing the power of meditation in your own life, so take action today and download this book for a limited time discount of only $0.99!
Tags: meditation, meditation guide, meditation techniques, mindfulness, meditation for beginners, meditation made easy, how to meditate, meditate, happiness, meditation book, alternative medicine, how to relieve stress, focus, benefits of meditation, meditation tips, relaxation, alternative therapies, healing, meditation exercises, stillness, alternative therapy, self-healing, stress, stress relievers, what is meditation, how to improve concentration, mindful meditation, how to do meditation, meditating, concentration techniques, stress management, personal growth, peaceful, health, meditations, anxiety self-help, anxiety relief, rituals & practice, spiritual self-help