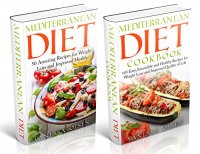 Free on 22nd Nov 21



or borrow free on Kindle Unlimited.
No reviews yet.
Get PALEO DIET book for FREE when you purchase this book.
Get on track with the mediterranean diet with the help of this 2-in-1 box set
This set includes two books of Vanessa Olsen — MEDITERRANEAN DIET and MEDITERRANEAN DIET COOKBOOK.
Mediterranean Diet for Beginners – 50 Amazing Recipes for Weight Loss and Improved Health
THIS IS NO DIET, THIS IS A LIFESTYLE!
For thousands of years, the Mediterranean diet has proven time and time again its ability to change lives of people in the most logical way known to mankind. It's used today amongst people from all over the world, being suggested by nutritionists, dieticians, and doctors alike. And finally, the secrets to this diet are available in an easy to understand and entertaining format that is this eBook- ready to be downloaded to your Kindle app or device!
Within the pages of this book you will learn how to create a life of happiness, health, and overall well-being while eating foods that are rich, savory, and delicious – wine absolutely necessary!
Those who follow the guidelines presented in "Mediterranean Diet – 50 Amazing Recipes for Weight Loss and Improved Health" will experience:

Fat melting as never seen beforeLower blood pressure, blood sugar, insulin, and cholesterol levelsIncrease in energy levelsReversed-aging effectsNo-more hunger (as common in traditional diets)Improved Sleeping PatternsThe prevention and/or cure of diseases such as cancer, Parkinson's, Alzheimer's, and diabetes. No pills or medical treatments necessary – just the scrumptious food of the Mediterranean region!
So if you are ready for a lifestyle makeover, one which will result in uncontrollable happiness and closeness to those around you as you shed some extra pounds, you've come to the right place.
Mediterranean Diet Cookbook – 105 Easy, Irresistable, and Healthy Recipes for Weight Loss and Improved Quality of Life While Minimizing the Risk of Disease
START LIVING YOUR LIFE TO THE FULLEST WITH THE MEDITERRANEAN DIET COOKBOOK – PROMOTING THE BEST LIFESTYLE KNOWN TO MAN FOR WEIGHT LOSS AND DISEASE PREVENTION!
Fiona Carson was fed up with diets promoting impossible-to-stick-to standards that only led to wasted time and frustration. She wondered if she'd ever find a diet which would add to her life rather than take away from her life, and then she found the Mediterranean diet!
The Mediterranean diet is changing the way people all over the world think of "health", and top-rated author Vanessa Olsen guides you through exactly how you too can use the Mediterranean diet to live your life to the fullest. The secret? Some savory, flavorful, and downright unforgettable dishes.
Some features included in this amazing deal are:

An inside look on the history of the dietA customizable macronutrient breakdownA list of benefits along with the studies that prove they're real15 easy and awesome recipes for each breakfast, lunch, dinner, and savory sauces10 drink mixes and recipes, both virgin and alcoholic5 simple snacks and sidesInspirational bits to keep you on trackAnd so much more!
This is the kind of book that you'll want to pull out for any occasion, whether it's a potluck dinner or Tuesday night with the family.
Don't Delay, Download This Book Today and Get a FREE Paleo Diet book!
Tags: mediterranean diet, diet, mediterranean recipe, weight loss, health program, mediterranean diet book, lose weight, mediterranean diet cookbook, mediterranean diet for weight loss, mediterranean diet plan, mediterranean food, mediterranean diet for weight loss, mediterranean diet recipes, mediterranean cancer diet