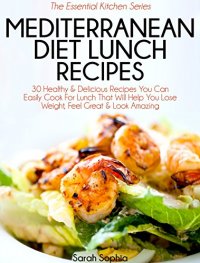 Mediterranean Diet Lunch Recipes
Looking to have a great mid-day Mediterranean meal, but don't know where to start?
Are you looking to implement the diet into your life, but want some more ways to have it for lunch?
Well, you're going to love Mediterranean Diet Lunch Recipe Cookbook, because it is packed with mouthwatering meals to help you can make at home and bring to work or on the go.
Cook amazing and delicious Mediterranean lunches yourself that will improve your life.
Bring meals that you could only get in luxury outside places right to your work or while on-the-go.
In this book you'll learn:

What is Mediterranean Diet

How it can Improve Your Life

What Ingredients Are Used

Lunch Recipes

And much, much more!
But not only that, you'll also learn about the 3 things almost everyone does wrong when trying to make a Mediterranean dish, and how NOT to make the same mistake yourself.
So, stop eating the same lunch over and over, and get the best book available on the Mediterranean lunch recipes.
You're going to love it, and you'll never eat boring fast food lunch again.
Grab your copy of Mediterranean Diet Lunch Recipes by clicking the buy now button.
P.S Don't forget to grab your awesome free gift inside the book, just our way of saying "thanks for buying"
A Book From The Essential Kitchen Series – Check Us Out On Facebook