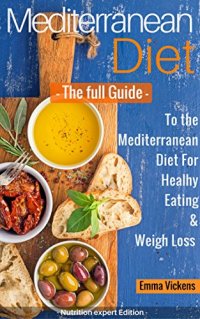 Free on 27th Oct 18



or borrow free on Kindle Unlimited.
No reviews yet.
Also Available as:
Print Edition

SECOND EDITION(spelling mistakes and incoherences in the recipes have been all corrected thanks to the kind people who reviewed the book)
Over 50 simple recipes to enjoy all the benefits and wonderful tastes of Mediterranean food !
Mediterranean Diet rimes with fresh fish, olives, tapenade and roasted tomatoes, and we all have vivid images that comes to our minds when thinking about it. When it comes to starting the mediterranean diet to incorporate it as a new lifestyle it is important to know that it is way more than that.
Not only that it brings people together, it fills a colourful table with beautiful vegetables, fish and other dishes, but it has many benefits too. This diet is rich in vitamins, antioxidants and Omega 3 and 6 oils due to the variety of fish, fresh fruit and vegetables incorporated in the diet.
In this book you will find 50 Recipes to enjoy the mediterranean diet for breakfast, lunch and dinner, moreover, being a dessert addict, I have included 10 amazing dessert you can do following my recipes.
In this book you will learn what are the 10 proven benefits of the mediterranean diet
Mediterranean diet & Weight lossGreater life expectancyImproved mental abilityLower risk of heart disease and cholesterol levelsAdditional diabetesprotectionKeep depression at bayControl and improve rheumatoid arthritisImproves circulationImproved eye healthImproved fertility
Here are a few examples of recipes you will find in this book !
Breakfast
Green Italian Tartine
Ingredients:
2 slides of bread2 asparagusSome radish1 buffalo mozzarellaA handful arugula1 tbsp lime juice1 pinch black sesameOlive oilSalt & pepper
Method:
For the vegetables
1. Wash the vegetables. With a peeler, cut thin slices of asparagus, so as to make tagliatelle. Do the same with radishes ( sliced ). Put them to macerate in a bowl with salt, pepper and a few drops of olive oil.
For the fresh cheese
2. In a bowl, add the mozzarella, salt, and pepper, add a few drops of olive oil, a little lemon zest and a few drops of lemon juice. Crush the mix with a fork, set aside.
3. Toast two slices of bread. Cut the avocado in half, remove the core and cut into slices. Arrange them on bread, salt and pepper lightly.
4. On a plate, arrange the slices of bread, then add the mozzarella mixture, vegetables, and arugula on top. Sprinkle with black sesame and serve.
Dinner
Grilled Thyme Melon with Honey & Lime
Ingredients:
1 melon3 fresh lemonthyme1 lime2 tbsp. butter 2 tbsp. honeyfreshly ground Sichuan
Method:
Thin out the thyme sprigs. Squeeze the lime.
2. Prepare the marinade. Mix melted butter, honey, thyme and lime juice. Season with pepper.
3. Cut the melon into 12 portions. Discard seeds. Pour the marinade over, cover and let marinate in a cool place for 1 hour.
4. Drain the slices of melon. Grill them 1-2 minutes on each side on the grill. Serve with yogurt or sour cream.
Now, scroll up and click "Buy", I guarantee you, your life will change!