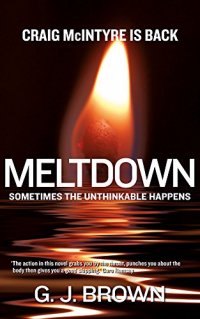 Ex bodyguard Craig McIntyre has a unique affliction: his mere presence removes people's inhibitions turning their darkest thoughts into actions.
When captured by arch enemy and state senator Tampoline, McIntyre fully expects to be killed, but instead finds himself on a mission to help replenish the US Strategic Petroleum Reserve which has been destroyed in a hushed attack by white supremacist group the Factor.
As McIntyre tries to use his unique ability to avert global economic meltdown, he must stay one step ahead of both Tampoline and the Factor. And as this thrilling story unfolds the stakes only get higher.
Reviews:

'The action in this novel grabs you by the throat, punches you about the body then gives you a good slapping.' – Caro Ramsay
Praise for Gordon Brown's previous novels:
The Catalyst: 'An explosive, harrowing riot that has movie potential written all over it.' Daily Record.
Falling: 'Brown keeps a firm, skillful grip on his material in what turns out to be a very promising debut novel. The Herald.
59 Minutes: 'This tale of violence and villainy packs a mighty punch.' Daily Record.