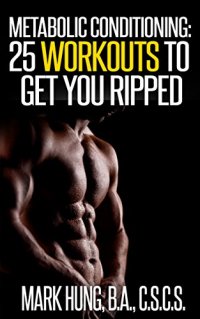 Get the workouts that will get you burning fat and ripped in no time!
Read on your PC, Mac, smart phone, tablet or Kindle device.

You're about to discover how to…

Create your own workouts and training sessions to improve your body composition, cut weight, lose fat, increase athletic performance and look great. Don't waste any more time on the treadmill or elliptical, get your calorie burning done in less time.

Here Is A Preview Of What You'll Learn…
How to create workouts that burn fat Why metabolic conditioning is the most effective cardiovascular training systemThe different energy systems your body uses during exerciseHow to modify workouts so everyone can benefitWhy you should stop doing long, boring cardioHow you can get a workout done with almost no equipmentHow to get workouts done in less timeHow to complement your current training programMuch, much more!

Download your copy today!

Take action today! Your new body is waiting!