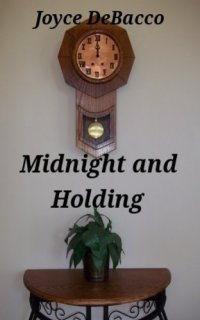 Sometimes we wish we could stop the clock and rewind time. Maybe to savor a happy moment, take back words spoken in haste, or fulfill an ambition. Other times we want to turn the clock ahead, hopeful of better times or fortunes. Midnight and Holding is a collection of stories reflecting those desires. There's a mix of humor, pathos, and serious observations in approximately 12,000 words.
Rubies and Other Gems – A woman's trip back in time puts her present problems in perspective. (This is the short story that inspired my novel of the same name.)
The Shed – A newly erected garden shed is the catalyst that reconnects a driven executive with his wife and children.
Harvey's New Suit – A woman buys her husband his first new suit in years.
Rainbow Years – A carefree youth calls to mind a woman's own dreams and desires.
Mad Dogs and Fishermen – A humorous account of an innocent suggestion taken to extreme.
Midnight and Holding – A parent's rite of passage.