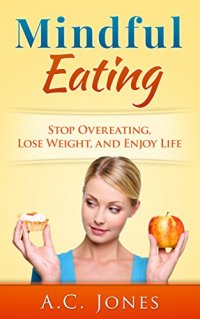 Free on 30th Aug 15 - 1st Sep 15



or borrow free on Kindle Unlimited.
No reviews yet.
Eat Mindfully and Kickstart Your Healthy Lifestyle
For a limited time, get this Amazon bestseller for just $0.99. Regularly priced

at $4.99. Read on your PC, Mac, smart phone, tablet or Kindle device.
The average person makes around 200 decisions about food every single day of their lives. And yet, sadly, many of us have not learned how to establish wholesome eating habits that will give us healthy bodies and minds. There is a growing body of research into the area of Mindfulness, which has established the validity of the mind-body connection for the Western world.
And as a Yoga instructor, I can personally attest to the overall transformation that tapping into this resource can create. In order to ensure our own mental wellbeing and happiness, it is vital that we choose life giving, nourishing food sources. But how does one begin to make better food choices, and where do you start?
In comes the practice of Mindful Eating. In my book, 'Mindful Eating' you will find a step-by-step guide on how to establish the straightforward routines to make this lifestyle transformation.
Here Is A Preview Of What You'll Learn…
The physical and mental health implications of mindless eatingReasons why we choose unhealthy foodsExamine your relationship to foodTurn that relationship into a healthy and fulfilling oneChoose delicious, healthy foodsMaintain these healthy habits at home, in the workplace, and eating out)Heal your mind and love your body againMuch, much more!
In 'Mindful Eating', you'll learn how to choose healthful, delicious foods that will allow you to glow from the inside out–not just for swimsuit season or for that big event, or even for a few months–but forever. And when our bodies and minds are healthy, enduring happiness and life satisfaction are truly within our reach.
Download your copy today!
Take action today and download this book for a limited time discount of only

$0.99!

Choose health and happiness for good.
Check Out What Others Are Saying…
After so many fad diets from gluten free to the ketogenic diet, I finally realized that my relationship to food needed to change. This book helped me to learn how to choose foods that would make me healthy and happy for the long haul.

-Christina, from Seattle WA.
"By reading 'Mindful Eating', I learned how to choose foods that would feed my body AND my mind."

Steve, Coquitlam BC.
Finally, a book that could teach me how to lose weight for good!

Darlene, Cincinnati.
I finally feel free from the unhealthy foods that I thought I loved for so long. I feel and look amazing!

Jennifer, Dallas TX.
Tags: Mindful eating, weight loss, healthy eating, weight control, healthy foods, happiness, happy relationships, healthy family, mental health, lose weight, permanent weight loss.