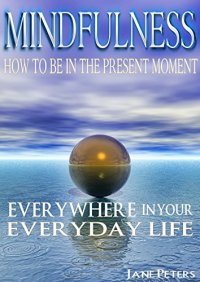 Free on 30th Dec 15 - 3rd Jan 16



or borrow free on Kindle Unlimited.
No reviews yet.
Discover How To Use Mindfulness In Your Everyday Life
This book contains proven steps and strategies on how to live in the moment and be awakened by each experience, as well as meditation.
Many of you are probably wondering about the hype of mindfulness. Despite being around for thousands of years, the closing of 2013 and the beginning of 2014 marked a new surge of research and talk about mindfulness.Simply because mindfulness is the practice of being immersed in the moment. You are fully aware, focused, and attentive. Mindfulness has been studied by psychotherapists for a long time now, about 4 or 5 decades, because it overlaps with their field and has been found as successful. Mindfulness has been known to reduce stress and help treat disorders such as anxiety, depression, insomnia and in some cases even addiction.
You may not think so now, but I can probably guess that you are busy all of the time. Your nights are too short. Your days are filled with too many tasks. Your caffeine isn't strong enough to turn you into a superhero and more than anything; you wish you had the power to bend time to your will–or at least manipulate time enough so you can have the piece of mind to get through your ever-growing to-do list and find a sense of accomplishment. You wake up thinking about all the things you have to do that day and you go to bed reviewing everything you did do and everything you failed to do.
And just like you, there are so many others out there who are too busy dwelling on the past and worrying about the future, to realize they are living in a moment.
Here Is A Preview Of What You'll Learn…
Living MindfullyTurn Chores into Opportunities to MeditateLoving MindfullyLet Go Of ControlMuch, much

more!
Download your copy today!
Tags: mindfulness, meditation for beginners