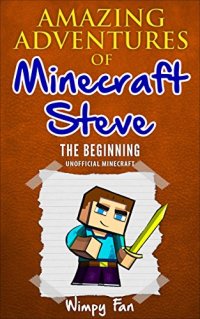 Bargain on 2nd Dec 16



or borrow free on Kindle Unlimited.
No reviews yet.
High quality Minecraft Fan Fiction
Follow the Amazing Adventures of Minecraft Steve in the first story by the fan fiction writer, Wimpy Fan.
"Steve hurdled over a steep drop and landed in the recessed space of a few blocks that shielded him from the next barrage of arrows―of which there were three. He clumsily raised his own bow and looked out into the poorly lit chamber. The shifting and clacking of bones alerted him to his enemies: a group of hostile skeletons. Their undead bodies reeked of dust and decay, and their arrows flew truer than any weakened man's muscles could merit. And Steve, ill-prepared for the encounter, knew that fighting them off could be a much greater feat than he could accomplish alone."
Limited time offer at 0.99, download today!