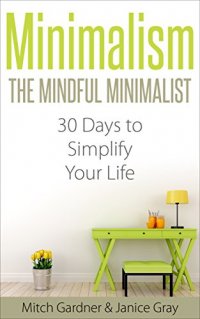 Minimalism: The Mindful Minimalist, 30 Days to Simplify Your Life (How to Declutter, De-Stress, & Live Simple, Minimalist Budget, Minimalist Living, Minimalism made easy, Minimalism Wardrobe)
Today only, get this Kindle book for just $0.99. Normally priced at $2.99.
Discover how the mindset and philosophy of Minimalism can take back your time, life, energy, and well-being. A mindset tested over thousands of years with powerful results!

In this book, you will be given Step-By-Step Methods and Hacks To Freedom from Consumerism, clutter, stress, and simple living. You will learn practical strategies to help you achieve a higher level of freedom and time wealth than ever before! The minimalist mindset is one of the most critical factors to living out your life goals and dreams.
Here is a Brief Preview of what you will learn and apply to your life …
Understand how to apply Minimalism to every area of your life especially your emotional connection to the things you own.

How to make small, every day choices that lead to a happier and more fulfilled life.

How to reduce your physical clutter and minimalist room & home design.

Tips and Hacks to Financial Freedom through Minimalist budgeting.

Steps to achieve the Minimalist Wardrobe.

30 Days to Simplify Your Life!

And much, much more!
Journey with us to Freedom and your new way of Life for only $0.99!
Tags: Simple, Minimalism, Simplify Your Life, Minimalist, Minimalist Budget, Minimalist Wardrobe, clutter.