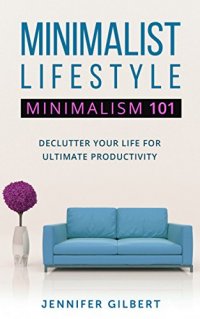 Free on 29th Aug 17



or borrow free on Kindle Unlimited.
No reviews yet.
The only minimalism book you will ever need!
Read on your PC, Mac, smart phone, tablet or Kindle device.
Do you want to live a life free of clutter and disorganization, but you don't know where to start?
It's quite likely that you haven't thought about how decluttering can increase your productivity, but it can. In all areas of your life, the lack of clutter simplifies things. Simply put, less is more. You can work faster. You can even clean your home faster and do all of the things that you have on your "to do" list faster, simply because you have started by simplifying your life
Decluttering doesn't just mean getting rid of excess. It works psychologically too. Whether you are aware of it or not, your mind is filled to overflowing with thoughts and these relate to all different areas of your life. Over the course of this book, you will find solutions that will help you become more productive.
Your mind will be clearer. Your home will be tidier and in your working life, you may start to be the one to help others, simply because you find your workload doable for the first time in a long time and don't have to stress about getting everything done. If you use the exercises in this book to help you, you will find that life simply falls into place easier.
Inside you'll learn…
Acknowledging your excesses The importance of a clear mindHow your friend list may be cluttering your liferHow to acknowledge interferenceHow to identify and eliminate clutter in the homeLearning to switch offAnd much, much
more!
Download your copy today!
Start your meaningful clutter free life today! download this book for a limited time discount of only $0.99!