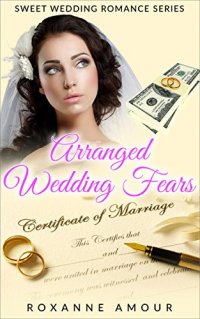 Modern Christian Romance – Arranged Wedding Fears a Clean Contemporary Romance
Forced to escape to prevent an arranged marriage leads to a life of deceit betrayal and heartache!
Do you like sweet love stories filled with excitement and romantic drama? Then you'll love Roxanne's modern love story books.
Grace Conley will inherit a fortune on her 21st birthday, but her legal guardian has plans for the young woman and her money.
Rather than marry the tyrannical Mr. Wright Grace disappears and assumes the identity of a girl on the run.
Befriended by the Alexander family, they welcome Grace into their home unaware of her true identity. Noah Alexander and Charlotte, his ailing fiancée, need help planning their wedding.
Grace isn't the only one with a secret! Working closely with Charlotte she uncovers her conniving scheme to trap Noah into marriage.
Will Grace expose Charlotte thus unmasking her true identity?
Has Noah fallen hopelessly in love with Grace?
Find out if Noah is deceived into marrying Charlotte or if Grace tells all saving him from marrying the wrong woman. Read your copy of Arranged Wedding Fears today to discover whether true love is stronger than lies!