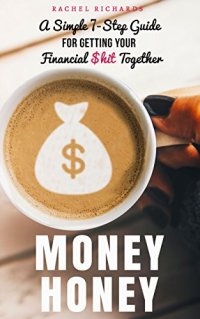 Free on 16th - 20th Sep 17



or borrow free on Kindle Unlimited.
No reviews yet.
Let's face it: Adulting is hard, especially when it comes to money management. In Money Honey, former financial advisor Rachel Richards achieves the impossible by bringing humor and sass to the dreaded subject of personal finance.
An avid investor and business owner, Rachel talks straight about how to attain financial freedom. You'll find no shortage of valuable nuggets in this tough-love guide that will teach you how to:
oDouble your income and halve your expenses
oConsolidate your student loans and lower your interest rate
oOpen a brokerage account and make a trade so that you can start investing in the stock market
oAllocate your money between debt payoff, short-term savings, and retirement
o…and lots more!
Most importantly, you'll learn Rachel's 7 Simple Steps for getting your financial $hit together. If you're ready to whip your finances into shape and have fun while doing so, this book is for you.
See for yourself what's inside Money Honey, with an excerpt outlining the contents of the hilarious book:
I'll start with the foundation:
ohow to create a budget so you know where you stand today
ohow to double your income and halve your expenses
owhere to put your savings to get the highest rate of return
Then we'll move onto that bad boy called debt:
ohow to lower your student loan interest rates via consolidation
owhy credit cards are either your friend or your foe
ohow mortgages work
ohow to get a bombproof credit score
The next section (my favorite) is investing. Investing is scary for most newbies because it feels foreign. I'll walk you through everything:
othe difference between a stock, bond, mutual fund, and index fund, and which one is the real MVP for my fellow millennials
ohow to put together an investment strategy that's right for you
ohow to physically open up an account and make a trade, with screenshots included
ohow retirement accounts work and when you should start saving for retirement (Hint: Now)
Lastly, I'll touch on taxes and insurance. You'll learn:
owhy tax refunds should not be celebrated
owhy long-term disability insurance is as important as life insurance
Applicable in 2017 and beyond, Money Honey is perfect for newbies to personal finance. Get this as a birthday gift or Christmas present for the struggling millennial or young adult in your life, or better yet, treat yourself!