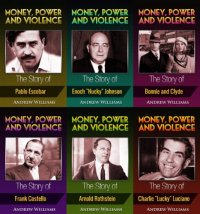 LEARN TODAY: Six amazing stories from some of the most infamous crime figures who have ever lived
Would You Like To Know More About?
Arnold RothsteinBonnie and ClydeFrank CostelloCharlie "Lucky" LucianoEnoch "Nucky" JohnsonPablo Escobar
Then Download Now and get this 6-book bundle today.
Scroll to the top of the page and select the buy button now.