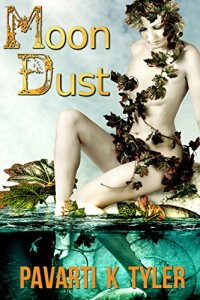 Bargain on 12th Dec 16



or borrow free on Kindle Unlimited.
No reviews yet.
Moon Dust – A "Two Moons of Sera" Short Story by Pavarti K. Tyler
Evolved Publishing presents a short story from the multiple award-winning author of White Chalk and The Sugar House Novellas. This story, a prequel to the novel Two Moons of Sera, is the perfect quick break from your hectic day at less than 14,800 words. [DRM-Free]
Science Fiction, Romantic Fantasy, Short Story
Nilafay spends her time beneath the ocean's surface either swimming in the depths or in the artificial atmosphere of the Domed City. Despite the rules of her amphibian race, she longs to explore the world above. On the day before her wedding to the Sualwet man of her dreams, Nilafay finally wanders too far and learns just what the others had been warning her about.
Don't miss our other great books from Pavarti K. Tyler:
White Chalk
The Sugar House Novellas (3 Novellas + a Special Omnibus Edition with Bonus Material)
Consumed by Love – A Short Story
Sign up for the author's newsletter at: www.PavartiKTyler.com