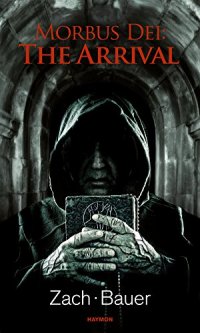 VOLUME 1 OF THE HIGHLY GRIPPING MORBUS DEI-TRILOGY
Getting caught in a snowstorm, deserter Johann List ends up in a secluded mountain village ridden by fear and superstition. Soon he realises that there is something wrong with this village, that it lies beneath a grim shadow – animals get killed, people disappear, hooded shapes lurk in the dark woods. When Johann falls in love with the daughter of a farmer, they decide to leave the village together. But even before they are able to elope, the situation escalates – a life and death struggle begins.
Authentically and vividly the author duo tells a story full of tragedy and emotion and allows you to travel back 300 years in time.
Morbus Dei: The Arrival – a brilliant combination of mystery thriller and historical novel.
***New translation: more than 300 reviews on Amazon.de (avg. 4.4) for the German edition!***
**********************************************************************************
THE MORBUS DEI-TRILOGY
Vol. 1: Morbus Dei: The Arrival
Vol. 2: Morbus Dei: Inferno
Vol. 3: Morbus Dei: The Sign of Aries