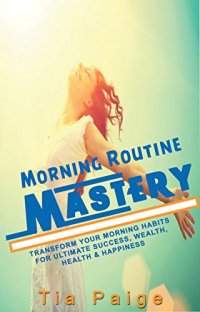 MASTER YOUR MORNING ROUTINE, MASTER YOUR LIFE!
Today only, get this Amazon bestseller for just $0.99. Regularly priced at $4.99. Read on your PC, Mac, smart phone, tablet or Kindle device.
"The law of the rubber band; In order to be effective, you have to be stretched."
This book contains proven steps and strategies on how to harness the power of morning rituals to change your situations. It will show you the power of habits.
Have you ever heard yourself say, "Ah, I wish I was more disciplined" or "Ah I wish I could wake up in the morning" or "I wish I could be more regular to work/school" or "Wish I could spend more time with friends and family" or "Wish I could lead the kind of life person XYZ is living?"
After reading this book, you will never hear yourself say this again.
That's a promise.
I'll give you a very simple analogy for this book.
Take a stop watch – clock how much time you take to write your signature.
Do it again.
Another time.
Now the fourth time, write your signature in block letters – not cursive. Now time yourself once again.
Do it again. Do it two more times.
Now compare the results. You would have taken at least twice the time to do your block letter signature. Why? Because your old signature has become a habit. You've done in for years, which is why you can do it in a blink. This is the principle of habit.
Download your copy today!TRUST ME, You need this book
Tags: (Personal Transformation, Happiness, Motivation, Habits)