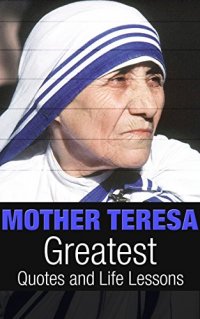 Free on 28th Feb 15 - 4th Mar 15


No reviews yet.
*** Limited time offer ***
When it comes to unconditional love and support, Mother Teresa is a name that stands out from the rest, and there's good reason for it. Mother Teresa, born in Uskub, Ottoman Empire on August 26, 1910, has devoted an entire life to unconditionally help the poorest of the poor, people that many others didn't even glance at. Even though she herself faced incredible hardships, she continued putting her own individualist needs aside, and only focused on the pain of others, something she said had helped her live a life with the purest of joy.
When it comes to healing the suffering of others while managing one's own, Mother Teresa intuitively knew a secret: there is eternal power and love when removing the pain of another. What follows are her wisdom on life, lessons that could radically transform your own life into strength, grace, and abundance. As a beacon of strength amid suffering, her lessons on life are not to be taken lightly; they have helped millions. Scroll up and grab your copy today.
*** Limited time offer ***