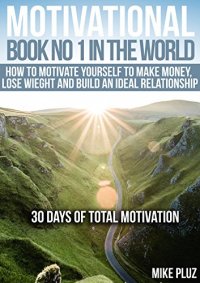 Free on 23rd - 27th Sep 17



or borrow free on Kindle Unlimited.
No reviews yet.
30 days of total motivation
More than 100,000 people around the world have gained motivation through this book.
What a motivation is? Why does it arise and disappear? Why things which used to motivate us yesterday, do not motivate us today anymore? You can easily find answers to these and many other questions in scientific books and works of people, who have researches this topic. This book is not really about it. There is little scientific and other information on motivation in this book. This book does not contain long texts explaining cause-and-effect relations of motivation rise, construction of neural networks and their influence on perceptions and motivation or other complex and confusing information which can hardly lead to formation of motivation in your mind.
So what is this book about? And is it really a book? Well, it's not an ordinary book.It's not an ordinary book. This is rather your action plan for the following thirty days. This book consists of small forewords, each containing certain sense, real stories of people. Foreword are followed by tasks which should be executed by all means, otherwise, no good will come of the book.
Here Is A Preview Of What You'll Do…
You will get rid of the fears that have tortured you so long
Find the source of inspiration that will motivate you for every day
Change your relationship for the better and dare to brave deeds
Increase your income to the desired result
Discard excess weight and get an athletic form
If you think that this book is a panacea for everything, then it is.
Scroll up and click "Buy now with 1-Click" to download your copy now to CHANGE your life!
© 2017 All Rights Reserved !
Tags: ????? ??????? ???????? ???? ???????? ?????