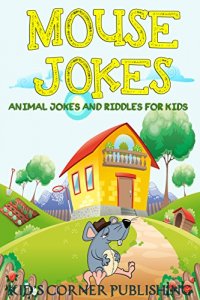 Free on 31st Aug 17 - 4th Sep 17



or borrow free on Kindle Unlimited.
No reviews yet.
Are you ready for the best Mouse Jokes and Riddles for Kids?
Below are sample jokes that you will find inside the book. Take a sneak peak:

Q: What's gray, squeaky and hangs around in caves?
A: Stalagmice
Q: What does a twenty-pound mouse say to a cat?
A: Here Kitty, Kitty, Kitty!
Q: What has 12 legs, six eyes, three tails, and can't see?
A: Three blind mice
Q: What did the cat have for breakfast?
A: Mice Crispies
Q: What goes dot, dot, dash, squeak?
A: Mouse code
You'll find more of them when you buy the book.
***Read it FREE With Kindle Unlimited or Prime Membership***
Don't have kindle? No worries! Read it on your PC, Mac, Tablet or Smartphone!
Download your copy NOW (click BUY NOW WITH 1-CLICK) or READ it FREE with Kindle Unlimited or Prime Membership.
TAGS:
animal jokes, kids book, childrens book, kid's book, children's book, puzzles, activity book, riddle book, brain teasers,kid's books, best jokes, best jokes and riddles, family riddles, family riddles for kids, clean jokes for kids, funny jokes, ultimate memes, tongue twister, knock knock jokes, big book of jokes, giant book of jokes, silly jokes, mouse jokes