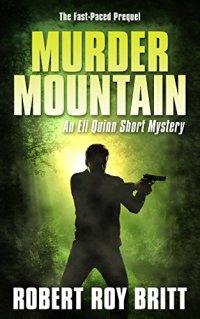 Bargain on 20th - 24th Mar 18



or borrow free on Kindle Unlimited.
Top - Reviews - Update Details
"An excellent quick mystery."  "An engaging tale of pursuit." "Britt writes tight prose." – Amazon Readers
In this fast-paced prequel to the 3-book Eli Quinn detective mystery series, Quinn tests the physical and mental skills that later define him as a private eye. 
A silent shooter kills Eli Quinn's wife at a public rally, in a scene captured on video in broad daylight, then vanishes. The case goes cold until Quinn's colleague, investigative reporter Samantha Marcos, suggests they team up to solve the seemingly random murder. Quinn and Sam embark on a months-long investigation that leads to a harrowing chase through a fog-shrouded forest as Quinn and his K-9 companion, Solo, hunt down the elusive killer.
Once you've met Eli Quinn in this brief prequel, you'll want to read the three novels in the series:
CLOSURE: "Fascinating characters, hard-edged action … Catapults the series off to a great start." – BestsellersWorld
DRONE: "Quinn's second case reads as if it were written by a master reaching the height of his craft. – Foreword Clarion Reviews
FIRST KILL: "Jam-packed with thrilling fight scenes, witty banter, and well-worn characters" – IndieReader