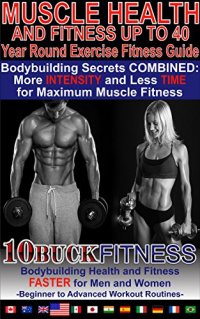 Free on 21st - 25th Sep 16



or borrow free on Kindle Unlimited.
No reviews yet.
Muscle Health and Fitness – Year Round Exercise Fitness Guide; specialized weight training for men and women up to age 40. The ultimate quick fitness workout routines for getting in shape FAST and STAYING in shape all year long with 10 minute fitness workouts at our beginning Level 1 and to our advanced Level 65 minute fitness workout. Designed for all types of athletes from beginning to advanced fitness and weight training levels. Stay Lean, Mean and Muscular all year long while spending LESS time training and actually INCREASING your workout results.
Those up to age 40 have varied fat-loss and muscle building goals due to exact personal fitness goals and starting points- whether a beginning weightlifter or advanced-intermediate bodybuilder. The 10Buck Fitness up to age 40 programs address this precisely with progressive weight training workouts balanced with basic cardio fitness guidelines.
What makes the 10Buck Fitness workout routines perform so much better than typical "old school" weight training?
With 35 years of weight training and bodybuilding experience to build from- 10Buck Fitness has spent many years in many gyms interviewing athletes about specific muscle building exercises, set and rep counts, intensity methods and personal techniques that produced the most results in the least amount of time in their weight lifting workout routines- and recorded each and every one. We then applied, tested and constantly revised our base weight training routines until we found the ULTIMATE muscle health and fitness routines that work for all- not just gifted humans in magazines and Bodybuilding Encyclopaedias.
Here are just SOME of the features found in our unique fitness guides:
-Fitness Plans that have 4 LEVELS of increasing intensity not only accounting for your current fitness training level, but the amount of time you have to train
-Workout Routines that structure your weight training by overlapping muscle groups AND intensity techniques and STACKS them for the ULTIMATE intensity in the least amount of time
-Muscle Fitness with our REVOLUTIONARY arrangement of sets, reps, intensity techniques and combined weight training movements to give you SUPERIOR results in the shortest possible amount of time while reducing "typical" training time
-Muscle Health with a weekly training routine that "OVERLAPS" certain body parts by design- "working" them on specific days, and "hitting" them hard on other days for the best muscle recovery and growth stimulation
-Workout Routines that COMBINE exercise movements to eliminate the need to focus on every single body part with multiple exercises and multiple sets- virtually negating over-training and strength plateaus- like our "infamous" Workout #2
-A Fitness Guide that has progression and flexibility by design for variety and muscle focus for increasing workout motivation
-An easy reading manual of containing (very) simple illustrations and tables, divided into 2 Main parts:
-Part 1 covers the actual techniques and training concepts, detailing the workout schedule and it's variations to allow some personal flexibility, and focus for any lagging muscle groups.
-Part 2 includes your actual Training Schedule with workout logs for your personal inputs starting with Week 1 (Level 1), and a week by week plan through your first 12 weeks of training leading up to the "Peak" (Level 4) of the program. From this point you can print the included blank sheets with a simple screen grab sent to your printer or directly from your desktop.
Fitness, Muscle Building and Fat Loss and can be yours in less time than you ever thought possible through our Bodybuilding based Weight Training Routines. Our Fitness Training mission at 10Buck Fitness is to change the way athletes and bodybuilders of all levels pursue their fitness training goals with workout structures