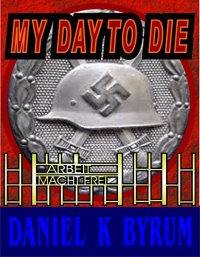 Free on 21st - 25th Dec 15



or borrow free on Kindle Unlimited.
No reviews yet.
Max Little with 'The Jewish Holocaust Justice Fund' has a job to do and he's not going to stop until he finds the next Nazi war criminal. Along with his assistant, Colby Fromage, they travel to Berlin where it doesn't take long before they find a man willing to talk. When Klaus Sankt volunteers to share his story, Max and Colby are taken on a whirlwind tour into the darkness and treachery of the Nazi's final solution.
In 1936 London, Klaus Sankt is a new college student from Berlin; his roommate Darby Oakley is a vocal opinionated Brit studying political science. Despite their differences, Klaus and Darby become fast friends. When Klaus is suddenly enscripted into the Wehrmacht and forced to leave school early, their lives begin to change in ways they can't imagine. They are reunited during the Berlin Olympics where they find female companionship, intrigue and loathing for the Nazi party. Something must be done but neither have any power to change the world.
War comes too soon, placing these two friends and their countries in the middle of War World 2. With so much at stake and too much to lose, they both serve as patriots and warriors fighting the enemy at great peril. Finally, the time comes when Klaus Sankt and Darby Oakley meet again. Confronted with the hard truth of war that today someone is going to die can Klaus do his duty and kill Darby Oakley? Moreover Darby knows it's, "My Day to Die" and no one can change it.
Is Klaus Sankt a war hero, a patriot or a ruthless war criminal? Is he telling the truth or covering his tracks? Did he kill to save his own life and who was he willing to sacrifice? Has Max Little found his war criminal or is Klaus Sankt all that he appears to be? The answers lie in the stories Klaus tells and in the lives of those who he didn't kill.