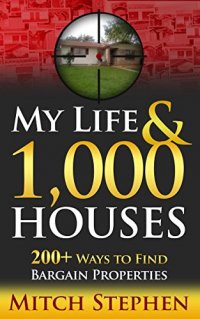 Bargain on 18th - 22nd May 15



or borrow free on Kindle Unlimited.
No reviews yet.
Author, Mitch Stephen has been a self-employed, creative real estate investor for over 20 years. His first book, My Life & 1,000 Houses: Failing Forward to Financial Freedom, resonated with real estate investors all across the country and abroad. Ever since its release the question of the day has been, "How do your consistently find such great deals?"
This book was written in response to that question.
My Life & 1,000 Houses: 200+ Ways to Find Bargain Properties is a rocket ride through the author's twenty years and what it takes to find over 1,000 great deals!
What would your life look like if you were an expert at finding great real estate deals?
Prepare yourself! This book is going to get your juices flowing. Your heart is going to start racing when you contemplate the possibilities. You're going to start seeing opportunities in places you never noticed. You'll come to understand there's a never ending stream of bargain properties – if you know where to look – and how to fish for them. More importantly, you may just start to separate yourself from those that hate their jobs and their daily grind.
It all begins with the deal! …hope, confidence, private lenders, partners, allies, success… Master the art of finding great deals and you'll have the opportunity to master your finances and thus your freedom. Whether you're an owner financier, flipper, landlord, wholesaler, or subject-to entrepreneur, it all starts with consistently finding great deals.
Mitch believes real estate investing is a powerful strategy for acquiring wealth. He has helped new investors find their place; has helped veteran investors re-invent themselves. He especially believes in "Owner Financing" beyond all other investing strategies.