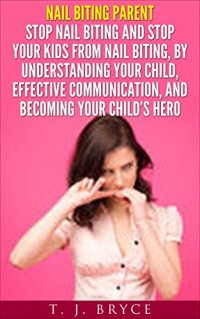 Free on 6th - 10th Jan 16



or borrow free on Kindle Unlimited.
No reviews yet.
A Guaranteed Approach to Stop Nail Biting in Your Child Using Love and Psychology
Normally Priced at $2.99, Buy Nail Biting Parent Today for only $0.99. Merry Christmas
You are about to embark on a seemingly short and simple journey with deep implications. We all know nail biting hurts physically and breeds, reinforces, and projects nervousness. Just ask Lebron James! In this book we will show you how to bridge the gap to reach your child and stop them from destroying their body and self confidence. Sometimes the more we focus on an unattractive habit the more we reinforce and trigger the feelings that cause it creating a vicious cycle which can only escalate…even with the best intentions.
The truth is, there are concrete reasons and patterns as to why people bite their nails. Luckily their are also proven methods to stop this nasty habit. You can end your nail biting habit forever. Further there are psychological principles which are so obvious once you learn them that they literally can change the way you see your child's behavior. Let's change the whole conversation between you and your child. Every cloud has a silver lining and this seeming problem of nail biting is a chance for you to set a precedent that you can guide your child effectively in a specific positive direction using compassion and understanding and assertiveness.
Here Is A Preview Of What You'll Learn…
Why Nail Biting is Bad

The Different Kinds of Children as a Parent

The Harmful Effects of Nail Biting

What Nail Biting Tells You About Your Child (And Yourself!)

How To Stop Nail Biting

How to Tailor Your Parenting Approach To Your Child
Give Yourself A Break and DOWNLOAD TODAY
tags: Parenting, nail biting, nail-biting, bites nails, good parenting, effective communication,