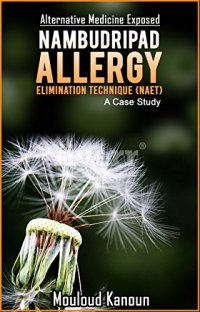 Bargain on 22nd May 18



or borrow free on Kindle Unlimited.
No reviews yet.
Do Not Try NAET (Nambudripad Allergy Elimination Technique) Before Reading This Book!
This book is intended for people with a long-term chronic illness who are thinking of trying alternative treatments. The subject of alternative and complementary medicine (CAM) is often controversial due to its lack of scientific evidence. The hype and marketing around it boldly suggest miracle cures while seldom delivering on its promises. In my experience of trying many therapies over the years, they have come at a premium. I hope this text will help the reader to make an informed decision about this particular alternative medicine before investing their time and hard earned money.
In This Book You Will Discover Everything You Need To Know About:
The treatment
The founder
The theory behind it
The evidence and counter-evidence
A patient case study
Recommendations
Take Action Today
By downloading this book, you will save yourself a lot of money and heartache further down the line.