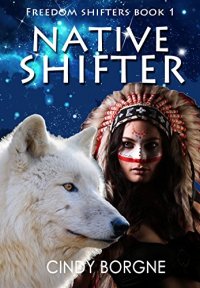 Bargain on 4th - 8th Jun 19



or borrow free on Kindle Unlimited.
No reviews yet.
Native Shifter is a paranormal romance set in the mid 1770's. It's the first book in the Freedom Shifters Trilogy.
Leotie values her freedom and peaceful life with her tribe more than anything. However, the outlanders want more and more of their land. They are given the ultimatum to leave their home or die. Soon the Mahasi are going to war with an unpredictable enemy. Leotie wasn't born to stay home and string beads. She's a hunter and a warrior who gets a chance to defend her people, but what she doesn't know is that a powerful shifter is watching her. He's about to turn her world upside down.
Keme is a native young man who believes he's a coward. He's nothing like his father the Great War Chief. Everyone knows him as the one who ran from battle. Secretly, he trains to be a healer. He tries to warn his people that going to war with the outlanders will end in many deaths, but only a few will listen. He wants to make Leotie his life-bond, but with his reputation how can he ask her?