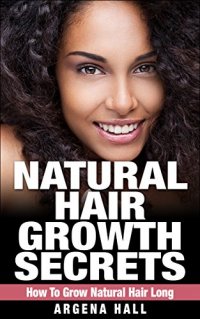 Step By Step Instructions On How To Grow Natural Hair Long
You're about to discover how to grow your natural hair long using these simple and easy proven methods.
There is no need to spend a ton of money on products, we are going to stick to the basics. Natural hair care is more about upkeep and motivation than you think.
There are a set of actions that you can take daily to make your hair grow longer. Natural Hair Growth Secrets goes into creating a plan of action to take care of your hair and your body in general.
You'll be surprised at how simple changes to your lifestyle can help with your hair growth.
This simple step-by-step guide will show you exactly to accelerate your hair growth.
Being natural in general can increase your hair growth, but you still have to upkeep and manage your hair to see results.
Growing your hair long starts with knowing how to treat it, what to use in it, and how often. In this book you'll discover how to use the proper treatments to accelerate hair growth.
This book is for people looking to grow their natural hair long using proven treatments and techniques.
If you're looking for an all-inclusive book where you can learn all the natural hair growth secrets in one convenient place, this book is for you.
Here Is A Preview Of What You'll Learn…
How To Care For Natural Hair Daily Hair Growth Routine Foods That Contribute To Healthy HairTips On How To Stay Stress FreeTypes Of Protective Hair Styles Treatments Upkeep Wearing Weave vs. Not Wearing Weave Much, much more!
Download Natural Hair Growth Secrets today!
Get Access To Our BONUS Natural Hair Checklist
Take action today and download this book for a limited time discount! Let's get started on growing your hair long!
Tags: natural hair growth, natural hair, natural hair styles, natural hair products, natural hair books for black women