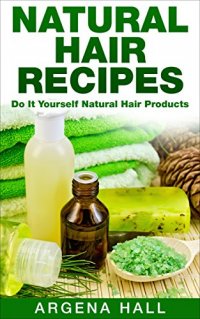 Let's Create Some Natural Hair Products
Save money by creating your own natural hair products from home with these simple and efficient natural hair recipes
Going natural can be a struggle within itself, but finding the right products to use doesn't have to be. In this book you'll discover who to create hair products using recipes that contain natural ingredients.
Not only will you save money, but your hair will smell, look, and grow better by using the natural products. Non of the recipes in this book contains alcohol or other harmful chemicals that strip your hair of it's moisture and damages it.
Find out exactly how you can create you own shampoos, conditioners and more by using products that may be found in your kitchen and are even safe for you consumption.
Treating your hair doesn't have to be a hassle. Just like your body, you hair needs the proper attention, care and vitamins to remain healthy.
This book is for those that are serious about having healthy hair and would like to start creating their own products from home.
In This Book Is…
Shampoo Recipes Conditioner RecipesHair Spray RecipesHair Gel Recipes Hair Oil RecipesTips For Healthier Hair and Much, much more!
BONUS: Get Access To Our Natural Hair Checklist and Journey Journal [FREE]
Get your copy of Natural Hair Recipes today and you'll be able to have access to it from any mobile device or even your desktop!
Categories: natural hair recipes, natural hair, natural hair care, natural hair products, natural hair books for black women