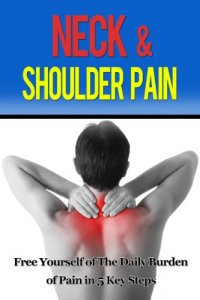 Have you been suffering bad neck and shoulder pain? This guide demonstrates how to immediately alleviate your pain in this trouble area.
Read on your PC, Mac, smartphone, tablet, or Kindle device!
These Strategies and Principles Can Help Eliminate Nagging Neck & Shoulder Pain
This guide will help you relieve your aches and persisting pain in your neck and shoulder area. Even if you haven't been in an accident or don't have any fracture or herniated disc, daily pain can be just as big of a problem. This guide shows you some daily stretches and treatment solutions that will have you feeling better instantly. There are also many teas and natural supplements that can be enormously helpful.
A Preview of What You Can Learn
How to build a pain treatment routineHow to create lasting relief without pillsHow to create a stronger neck and shoulder area via the right nutritionWhat most people are doing wrong with treatmentHow to take action on easy stretches and get resultsNo longer be afraid of a lifetime of perpetual pain
How could you benefit from a book like this? I've created a guide that will keep you from "dealing" with daily pain. You don't have to suffer. There is no reason to suffer. Modern solutions have provided us with enough relief to live a satisfying life and this guide shows you a daily routine that works.
Download Your Copy Today
To order Neck & Shoulder Pain: Free Yourself of The Daily Burden of Pain in 5 Key Steps, click the BUY button and download your copy today. You can read the book from the convenience of your Kindle, Computer, or Tablet.