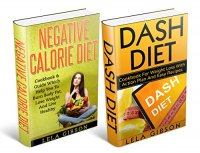 Free on 4th - 8th Dec 17



or borrow free on Kindle Unlimited.
No reviews yet.
Negative Calorie Diet & Dash Diet Box Set
Negative Calorie Diet: Cookbook & Guide Which Will Help You To Burn Body Fat, Lose Weight And Live Healthy
Are you on the verge of giving up on your weight loss goals? Have you tried reducing your fat intake, eating fewer carbohydrates and all the diets that call for eating fewer proteins and carbohydrates, drank a lot of water, but you don't lose any weight? Does nothing seem to work? Well, I guess losing hope is understandable, but wait, DO NOT GIVE UP JUST YET! There is one more option, the best option in fact: The Negative Calorie Diet.
If we are to go by the facts, the Negative Calorie Diet is the fastest way to lose weight; you can lose up to 14 pounds a week when you adopt the diet! Thanks to this diet, losing weight is no longer a random dream or a hope; it is a reality for thousands of people across the globe.
In this book, you will learn more about the Negative Calorie Diet, how it works and some amazing recipes that will help you burn fat.
Dash Diet: Cookbook For Weight Loss With Action Plan And Easy Recipes
In an attempt to lose weight, we try almost any diet we can get our hands on. However, the sad thing is that most of these diets are just fad diets that don't offer long lasting results. It is important to point out that if you want to lose weight, you need to make a lifestyle change and not just adopting a diet for few days, losing a few pounds and gaining all that weight back after a while. This is why diets that are too restrictive are hard to adopt in the long run and this is where the DASH diet comes in.
The DASH diet is unlike any other diet because it focuses on lifestyle change rather than just losing a few pounds. Initially, the diet was started to help deal with high blood pressure; however, it is also quite effective in weight loss. The amazing thing is that it is not too restrictive and you can actually adopt it as a lifestyle. If you want to learn more about the DASH diet, what it entails and how you can use this diet to lose weight, this book will help you do just that.
In this book, you will learn more about the DASH diet, how it helps lower blood pressure and promotes weight loss, as well as some meal ideas, meal plans and recipes to get you started with the diet.
Here's Just A Small Preview Of What You'll Learn…
Negative Calorie Diet: What Is ItNegative Calorie Food ListHow To Make The Transition To Negative Calorie DietNegative Calorie Diet RecipesBreakfast RecipesLunch RecipesDinner RecipesSnacksNegative Calorie Diet And Exercise: An Effective Way To Lose Weight FastWhat Is The DASH Diet?What To Eat And AvoidDASH Diet Action Plan: How To Adopt The DASH DietDASH Diet Meal IdeasDASH Diet RecipesBreakfast RecipesLunch RecipesDinner RecipesDessertsSnacksAnd much, much more!
When you purchase the ,,Negative Calorie Diet & Dash Diet Box Set" today, you'll save $3 off the regular price and get it for a limited time discount of only $0.99! This discount is only available for a limited time!
That's not all… we're also throwing in a Free Weight Loss Kickstart e-book guide that will help you lose the weight and keep it off for years to come! This bonus is only available for a limited time!
No questions asked, 7 day money back guarantee!
Go to the top of the page and click the orange ,,Buy now with 1-Click" button on the right to order now!