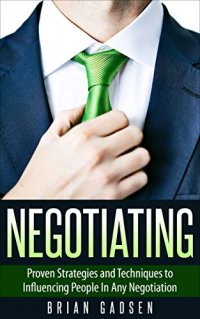 Do You Want To Know How To Influence Or Persuade Anybody?

☆★☆ Read this book for FREE on Kindle Unlimited ~ Bonus Right After The Conclusion Act Now Before Gone! ☆★☆
Would you like to know how to negotiate with anyone? When you are in negotiations with someone do you feel nervous or uncomfortable? Would you like to know the techniques of the best negotiators?
When you download Negotiating: Proven Strategies and Techniques to Influencing People in Any Negotiation, your negotiating skills will improve rapidly! You will discover everything you need to know about negotiating.
Publisher's Note: This expanded 2nd edition of Negotiating has FRESH NEW CONTENT to make negotiating and persuading easier and more effective than before!
These fun masterful tips will transform your negotiating skill set. You'll quickly see your results and success throughout your negotiations.
Within this book's pages, you'll find the answers to these questions and more. Just some of the topics and questions include:

How to Negotiate Effectively

Bargaining and Closing

How to Succeed in Tough Situations

The Art of Negotiation

Negotiating On Somebody's Behalf
This book breaks training down into easy-to-understand modules. It starts from the very beginning of how to negotiate, so you can get great results – even as a beginner!
Take Action Today! Scroll to the top and select the "BUY" button for instant download.